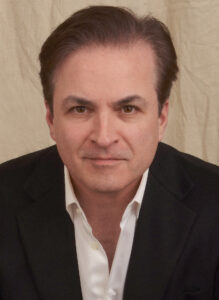 Anton Evangelista is an award-winning filmmaker who nurtured his multi-talented artistic abilities for both the film and advertising industries. His raw talent would flourish into a multi-creative expression that would eventually include the two worlds he loved most: art and entertainment. He is a graduate of the noted High School of Art and Design in New York City.
His strong drawing ability guided him to becoming a storyboard artist, working side by side for many top advertising agencies and commercial directors, in developing national campaigns for such clients as Miller Genuine Draft Beer, Blistex, Taco Bell, and others.
He founded his own production company Comprehensive Films in 1994, with the goal of developing and producing quality filmed stories that would inspire, transform and enrich lives in an entertaining way. In 1995, he produced and directed his first short film BEYOND REASON. It went on to play at many
international film festivals. This led to directing assignments, including directing several national commercials for Fleischmann's Yeast.
His first feature film INTERVENTION a character-driven family drama about a young Italian-American Bronx couple in 1968 and the challenges they face with family, loyalty, and an unexpected incident that changes their lives forever. It went on to win seven awards on the film festival circuit.
Anton went on to write, produce and direct other projects, including a documentary on the healing effects of laughter entitled JUST LAUGH! featuring Regis Philbin, Joel Osteen, and many other celebrities. UMBERTO E a heart-warming documentary on the life of Anton's father Umberto, a story of personal
triumph, choosing love and forgiveness as his weapons of 'revenge.' AUTHOR & ACTIVIST: THE DANIELA GIOSEFFI STORY about the life and work of internationally acclaimed poet/author Daniela Gioseffi. THE CAROUSEL MAN an inventor's passion to build a 9ft. functioning miniature carousel in his garage, and the ten painstaking years it took to build it. PICCIRILLI & ME the family of Florentine sculptors who carved the Lincoln Memorial in Washington, D.C., the lions in front of The New York Public Library, and so many other national treasures, from their studio and home in the Bronx.
Anton's documentary IL SIGNOR JACKSON was selected as Best Film by Hollywood directors Joe and Anthony Russo for their Italian American Film Forum. The story chronicles the life and contributions of a remarkable African-American teacher, with an Italian spirit. The acclaimed film continues to be well received in film festivals, both in the U.S. and Italy, where it won Best Documentary and Best Director awards.
Also, he's an active associate of the Sousa Mendes Foundation by providing filmed testimonials of surviving refugees, in bringing to light the heroic efforts of Portuguese diplomat Aristides de Sousa Mendes, who went against authorities and issued visas to 30,000 Jewish and non-Jewish refugees alike, to flee Europe at the beginning of World War II.
To learn more about Anton, visit:
www.comprehensivefilms.com
www.antonevangelista.com
email: moviesbyanton@gmail.com
#antonevangelista
IMDB